Drive Units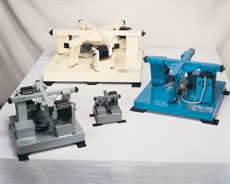 Drive units are the motors and the force behind the vibratory feeder bowls and other feeders and aspects of an automation system. Drive units must be heavy duty pieces of equipment and they must be reliable. Drive units are the heart of the system. Dial-X Automated Equipment, Inc. designs and manufacturers our own high performance drive units and they have been tested and proven in the field for decades.
Engineered for maximum durability, our drive units are precision built and jig welded, featuring a welded crossarm brace for added structural strength. Our drive units design considerations combine power and control requirements to accommodate various part types and sizes. We stock a large inventory of versatile drive unit components and springs to assure customer turn-around requirements. Drive units are available in a 4-post single coil to 8-post 4-coil, with a standard size range of 6″-36″.
Choose Dial-X
Put our 125 years of combined experience to work for you.
For further information or a free quote on drive units, contact Dial-X Automated Equipment, Inc.
---
---