Custom Systems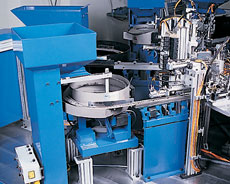 All of our automation systems are "custom" automation systems, engineered and built to our customer's exact specifications. We design and build custom automation systems for all types of applications, including assembly, joining, testing, inspection, parts handling, and much more. When you can't find a machine that meets your needs, let us build something to meet those needs exactly. The labor and downtime savings, combined with the production rate increases from our custom automation systems typically result in rapid ROIs. Dial-X Automated Equipment, Inc. has the experience and flexibility to meet your exact custom system needs.
Custom automation systems are designed to your specific needs and are not a standard off-the-shelf item that you must adapt your production line to. Some custom automation systems include, but are not limited to:
Pneumatic Automation
Medical Test Equipment
Textile Manufacturing
Sheet Metal Manufacturing
Tattoo Machinery
Embroidery Machinery
Water Dispensing
Engine Manufacturing
Milling
Custom automated products will increase your overall production rate.
Choose Dial-X
Put our 125 years of combined experience to work for you.
For further information or a free quote on custom automation systems, contact Dial-X Automated Equipment, Inc.
---
---